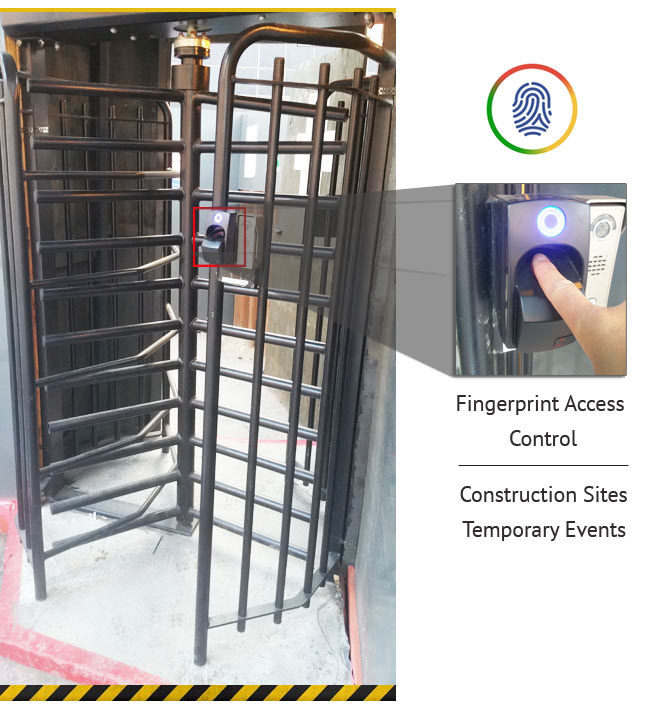 Fingerscan Security Entry Control
Rock solid and reliable fingerprint reading every time - even in the most demanding environments.
Ideal for:
Construction Sites
Temporary Events
For Sale or Weekly Hire
---
Pre-Assembled Hiab Delivery Anywhere In The UK
Fire Roll Call
CSCS Validity Check
Weekly Time sheet Print Out
Restricting Access
Construction site access control systems helps restrict the movement of people around a site in a cost-effective manner. The access to certain parts of the site can be limited and only accessible once the fingerprint I.D. has been identified and checked. They are also useful for verifying attendance for employees hours and for emergency evacuation situations e.g. when the fire alarm goes off where you need to find out for sure who was on the site at the time of the incident and therefore to see if there is anyone not accounted for who was on-site.
Employment Issues
If there are any disputes between employers and employees for any reason then the attendance evidence can be brought to the forefront to help resolve the matter.
The finger scanning system we use is fast and accurate even in very busy periods, they wont hold up the flow of people to their work or for temporary events. This system also eliminates the problem of card and fob forgery, that can be passed onto third parties to use for sometimes illegal purposes. There will also never be an issue of 'O I Left It At Home', your fingerprint is with you at all times and solely identified with the such person and no one else.
Please call us on 0203 468 7323 for a hassle free no obligation quotation.